After out trip to Oklahoma, the next leg took us a little further east to North Carolina where Fairyeggs lives. That's right folks, Fairyeggs finally got to actually meet little E! I have a lot to say about this...so much that I've written and discarded about five posts. So, I'm going to try to break it down.
For those of you who weren't following me back then, Fairyeggs is one of my best friends from college who donated her eggs in a cycle which resulted in my amazing boy. Since the DE-IVF cycle, we have seen each other only once back when I was about five months pregnant and still in Missouri. With E's birth and our move to Alaska, getting together before now has simply not been feasible. However before I even planned our trip to see her, I planned something else.
The connection between Fairyeggs and my family is something incredible and really different from the norm. So, on E's birthday, I wanted to get Fairyeggs something to show my appreciation of her gift. I chose to get her a Pandora bracelet with a couple of charms to celebrate what we did to get to this point. With each subsequent year, I plan to give her a new charm to add to her bracelet, just as E will add to our lives each year.
This year, the first charm I chose was a simple silver heart to symbolize the love of our friendship. While most people wouldn't choose love as a representation of friendship, for us I do. I love that girl!! She's proven over and over again how friendship through thick or thin really works. The friendship that we forged in college became the first step of the path that led us to today.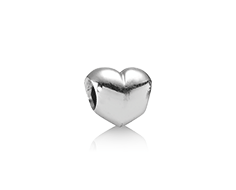 Secondly, I looked for a representation of the cycle. Since neither a needle or a carton of eggs is available as a charm, I chose the Angel of Hope. After the dismal failure at egg retrieval for my second cycle and the subsequent BFN, I was in a pretty dark place. Out of nowhere, she gave me hope. I know, I know--it sounds cheesy! But these types of things, this is why these phrases were made.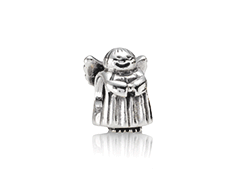 Last I chose the traditional baby carriage as a symbol of E's first year. Simple. Straight forward. But no, I didn't actually have a baby carriage, pram, or bassinet.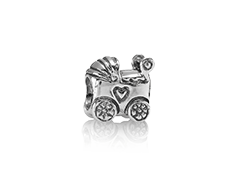 When I gave it to her, she cried. I think she liked it. :)
xoxo
Five more days left to enter my
giveaway
for 25 free Shutterfly holiday cards! Anyone who is a follower can leave me a message on the giveaway post and you are in! If you aren't a follower, it's simple to become one! Click on the right hand side of the page where it says followers and you'll be on the path!