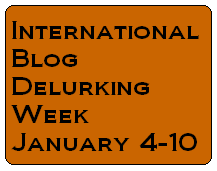 This week we are celebrating all of the lurkers of the world.
You know who you are, the ones who read but never comment.
Yes, dad and FairyEgg's mom, that includes you along with anyone else who visits!
So today, leave a comment. Say hi. Wave!
Lots of love to all of you lurkers! Common' delurk already!
xoxo